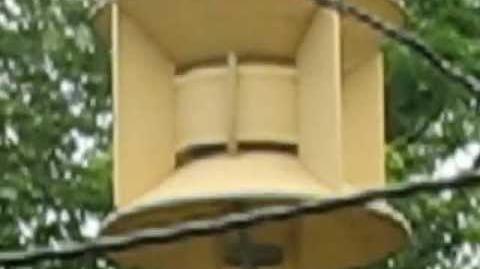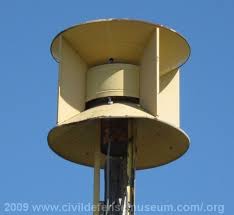 The Federal Signal SD-10 was a dual-toned, 9/12 port, 10HP electromechanical siren produced by the Federal Sign & Signal Corporation. It shared the same rotor and stator assembly with the Model 5AT/5BT. It was produced from the late 1950's to the late 70's where it was discontinued. There were 2 models produced: The SD-10A is the most common model and is powered by 240V 3-phase power and the SD-10B which runs off of 240V single-phase power. It produces a sound of 109dB at 100 feet, and weighed about 500 pounds.
Specifications
Edit
Ports: 9/12
RPM: 3450RPM full speed
dB rating at 100 feet: 109dB
Motor type: 10HP electric induction motor
Power requirements for SD-10A: 208/240Vac 3-phase, 28/14A, 50/60hz
Power requirements for SD-10B: 240Vac single-phase, 56A, 60hz only
Motor starter: Federal RC5 motor starter required to operate.
Diameter: 46"
Height: 80" (with metal legs)
Cities that currently use SD-10 sirens
Edit
Tucson, AZ (at least one is still tested once a month), most have been removed
Sarpy County, Nebraska
Beaver Dam, Wisconsin (Only one remains and is tested once a month)
Murphysboro, Illinois
Allen, Texas (most have been removed and replaced with Federal Signal 2001s)
Bellevue, Nebraska
Norman, Oklahoma
Collinsville, Illinois
Centralia, Missouri
Branson, Missouri (Slowly getting replaced)
Mulberry Grove, Illinois
Greenville, Illinois
Pea Ridge, Arkansas
Deerfield, New York (Operates as a fire siren for the Volunteer Fire Dept.)
Mayville, Wisconsin
Kaalea, Hawaii (Status of siren(s) unknown, most likely removed)
Earleville, MD (Operates as a fire alert signal) ...And more.