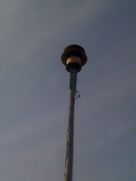 The "Model X" series was a series of sirens produced by Federal Signal from the 1920s to the present. It constsied of the Model 1, the Model 2 (T), the Model 3 (T), the Model 5 (T), and the Model 7 (T). Of these, the Model 2 is still in production.
There is also a Model 10, and a Model 20
Sound output/power
Edit
Model 2- 102-/100'
Model 2T-100/100'
Model 5T-113/100'
The Model X series is electromechanical and stationary.
See also:
Edit