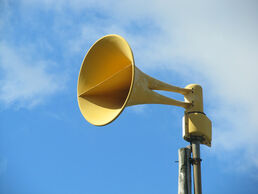 The ACA Hurricane 130 was a siren produced by Alerting Communications of America.
Specifics
Edit
As implied by the name, the Hurricane 130 produced 130 decibels of sound.
The Hurricane 130 appears to have been an early design of the Hurricane that was later produced in the 1960s. The 130 featured a square horn, and it is believed that ACA may have been embroiled in legal troubles with Federal Signal due to the 130's square horn resembling that of the Thunderbolt.
Existence
Edit